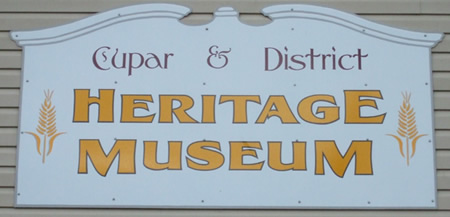 Click photo to go to the Cupar Museum BlogSpot
Cupar Heritage Museum began with a board being formed under the town of Cupar bylaw in 1990. With assistance of the Town of Cupar, the Cupar Historical Committee, the Hungarian Dance Club, the Lions Club, various donations, fund raisers and much help from many volunteers and board members, the museum officially opened on Sunday, June 3, 1995.
The Museum is housed in two buildings, the old Masonic Hall built in 1915 and the
old curling rink built in 1954. At the present time the display area covers some
343 square meters and a workshop area of 90 square meters.

The displays represent many facets of life in Cupar and District from the early pioneer
days to the present time. They include cultural, religious, sports, homemaking,
medical, military, farming and other historical views.
The museum is opened seasonally from May long weekend to the long weekend in September with other visits available by contacting the town office or a museum board member.
prairieecho.blogspot.com Eight individuals from the Cupar area share stories of
early life on the prairies.
cuparsaskatchewan.blogspot.com Memories of 100 years of a small Saskatchewan town.