Cupar is proud to be the home of the very talented, nationally known artist Jacqueline Berting of Berting Glass. Jacqueline with her husband and partner James Clark, work out of her studio, on an acreage north of Cupar.
Berting Glass Official Website

In creating "The Glass Wheat"
I am able to give back to Canadian farmers,
the hope, encouragement, inspiration
and motivation I received growing up on a farm.
As a child, running through crisp, green wheatfields
gave me an incredible feeling of freedom.
I have never forgotten this feeling
and am inspired and influenced by it every day.
At this time in history, I salute the farmers of Canada.
The dedication and courage of these resilient people
continues to inspire me.
The Glass Wheat is a symbol of hope.
Many thanks!
BELIEVE AND YOU CANNOT FAIL!

Jacqueline was born in St. Gregor, Saskatchewan, Canada, in 1967. She attended Red Deer College in 1987 and Sheridan College in Oakville, Ontario, 1987-1990, where she majored in Glass. Jacqueline studied Iron Art and Blacksmithing at the Penland School of Art in
North Caroline, U.S.A., 1990.
Her work has been shown in many group and solo shows
across Canada. Her most famous work to date is
"The Glass Wheatfield",
encompassing 14,000 waist high glass wheat stalks,
each piece individually hand cut and lamp worked.
A Salute to the Canadian farmer.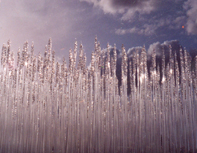 Jacqueline's most recent work is "The House of Perception".
A clear glass and iron house consisting of over 400 sand cast
glass panels. 10.5' x 6.5' x 9' high.
Through the generous support I have experienced, I am fortunate to have the assistance of my parents, Sally and Dan, friend Cliff and partner and husband James Clark.