For a town of 592, tiny
Cupar in Saskatchewan
has got one heck of a lot
of hockey history

By Garth Woolsey
Sports Reporter

Three of the top four defenceman in the NHL history played the bulk of their careers with the Boston Bruins, but only one of them got his start in Cupar. Sask., a town of 592 that is honouring his memory this weekend.


Bobby Orr, the top-rated defenceman of all time, was from Parry Sound, Ont. Ray Bourque, man of the recent moment with the Colorado Avalanche, after spending all those years in Boston, is a Montrealer. On The Hockey News list of the greatest NHL players of all-time, Orr is the highest ranked defenceman, at No. 2 overall, Shore is No. 10 and Bourque No. 14. The only other defenceman in this heady company is Doug Harvey, the former Hab, who rates out a No. 6.
But today belongs to the Shore family and Cupar, which happens also to be this reporter's hometown, situated across the Qu'Appelle Valley from Regina, grain and hockey and high sky country. There's been an organized senior team, a town team, in Cupar continuously since 1907 and it was Eddie's father, T.J. Shore, a cattle and horse man, who financed the first indoor rink in town, built in 1911. These days, senior hockey struggles to survive in some parts of Canada, but Saskatchewan is a bastin of the full-contact game (as opposed to ubiquitous) played by men willing to drive through blizards for little more compensation than the opportunity to knock heads. The rink represents community now, as it did back then.
Born up the way in Fort Qu'Appelle in 1902, Eddie grew up on the huge, six section family spread outside Cupar, showing little aptitude for hockey until relatively late in his childhood. (T.J., by the way, would loose the family fortune in a B.C. bolt business, leading to his suicide.) When he took to the game, though, young Eddie did so with a ferocious passion that would make him stand apart even from his Hockey Hall of Fame colleagues.
Certanily, he provided inspiration for everyone who ever would don the sweater of the Cupar Cubs, or as they later became known, the Canucks ... some 250 ex-players and families are gathered this weekend to celebrate the naming of the sports complex in honour of the Shores. (Oldtimers say Eddie's older brother Aubrey may well have been the better player, but he never fully realized his potential. It is also said that Aubrey's taunts may have led to his brother becoming obsessed with excelling at the game.)
"My father was one of those kind of people, if you tell him he couldn't do it, he was gonna do whatever it took to do it," says Eddie Shore Jr., celebrating his 71st birthday this weekend. "When he was told, you'll never make a hockey player, well, that was either the right thing or the wrong thing, depending on how you look at it."
The Shores played for a Cupar team that made an impression beyond the town's size, sometimes in those early years playing against Moose Jaw and Regina and Saskatoon, traveling by train with townspeople in tow. It was the high life, as good as it got in the long prairie winter. The brothers Shore and the lads were celebrities. Eddie, at age 21, eventually was recruited by the semi-pro Melville Millonaires, then moved on to the fully-pro Regina Capitlals and Edmonton Eskimos, before being purchased by the Bruins for the 1926-27 season:
The Shore Line:
He would win four Hart Trophies in th 1930's, as the league's MVP (Orr received only three).
Much as Orr is remembered for revolutionizing the defence position by leading rushes into the other's team zone. Shore was the first to do so regularly, 40 years earlier. He'd shoot wide of the net intentionally, then swoop in to pick up his own rebound. He skated in a crouch, which made his balance ... and delivered devastating punches.
Shore, all of 5-foot-11 and 190 pounds, was a brutal and feared opponent with a pain threshold measured on the Richter scale. Today's game is milquetoast by comparison with his heyday. In his first training camp with the Bruins, Shore scrapped with teammate Billy Coutu, winding up with an ear so damaged team doctors said he'd have to have it removed.
But Shore found a doctor who would agree to try to reattach the ear and eschewing an anaesthetic, asked only for a mirror so he could wathch and make sure the job was done neatly because, he said he was "just a Prairie boy who did not want his looks messed up.
Leaf fans of the time especially detested Shore because it
was his dirty hit on Ace Bailey that fractured his skull and effectively ended the latter's career in 1933.

What's less known is that Red Horner of the Leafs subsequentlhy decked Shore with a right uppercut that resulted in the Bruin suffering a bloody head injury of his own
He was suspended 16 games (out of a 44-game schedule), spending most of the time in hospital recovering from his own injuries, and would then become one of the first NHL players to wear a helmet. Bailey's father, as the story goes, was listening to the game on radio back in Toronto and became so incensed he packed a bag, and a gun, for Boston. Leaf team officials intercepted him at the airport. No harm done.
A partial list of other injuries suffered by Shore includes: 80 cuts requiring 978 stitches, fractures to vertebrae, hip and collarbone, a nose broken 14 times, a jaw fractured five times. Before his death in 1985, Shore had survived cancer surgery and eight heart attacks.
Shore got caught in traffic and missed the train from Boston to Montreal one day in January, 1929. A wealthy friend provided a limousine and chauffeur but Shore wound up doing most of the driving throughout the night and most of the next day in a blizzard, going off the road many times and once hiring a team of horses (for $8) to drag the car out of a ditch. He made it to the hotel in Montreal at 5:30 p.m., ate a steak dinner, had a nap then scored the only goal in the Bruins win over the Canadiens.
Shore held out for more salary virtually every year of his playing career, 15 seasons in Boston. Later, as brilliant, innovative and eccentric owner of the Springfield Indians, his tyrannical ways would help lead to the formation of the NHL Player's Association. One of his pupils was career minor-leaguer Don Cherry.
The Shore method of developing players included making them tap dance, sometimes in hotel lobbies. He had them try to imitate ballet moves. He told one player, perhaps seriously, that he might help himself if he parted his hair on the other side, because it would give him something else to think about. Injured or benched players in Springfield were expected to make popcorn and sell programs. Eddie Jr. did a lot of that, too.
Shore owned Boston and was a draw everywhere he went in the old six-team NHL. At home one time, while the band played "Hail To The Chief," he skated onto the ice wearing a cape.
Shore once told the late author Dick Beddoes: "Most of us are a little crazy in one way or another, some of us admit it. As for me, I'm not sorry about anything I've done in my life."
Among the hundreds who played in Cupar, Shore is the only one to make it to the NHL. But scores of other NHLers have come out of small-town Saskatchewan, especially back when Canada supplied practically every player in the league. This is my (very) minor claim to fame: I also played a season for the Cubs, as a 17-year-old third-line center, in the late '60s.
My brother Rob has lived his whole life in Cupar and has been involved with the team one way or the other for the past 24 years, since he first played played for it at 16. These days he's the secretary-treasurer, meaning he's in charge of fund raising, key to attracting and paying the "import" players who can make or break the team. He, club president Kevin Bonish, and manager Kelly Findling are credited with keeping the team alive in recent years after it nearly folded.
"It's a big commitment to keep it going," says brother Rob, "If you were to to loose it, you probably wouldn't ever get it back." Some players who commute from Regina get maybe $100 a game, plus the usual gas mileage, sticks and tape. Not much, but most of the rinks don't hold more than 1,000 people and tickets are dead cheap. A pub owner paid for the star on one of the rival team last season, figuring he gets the money back in post-game sales. "Thats what's kind of killing senior hockey," Rob adds. "There's a lot of towns can't offer the players much and if you don't have a good team, who's going to come to watch? It's kind of a catch-22 thing ."
Little Cupar rates the lowest in classification by population, Senior D (749 and under), but more often than not steps up to Senior A (over 4000) for the provincial playdowns. In 1995, the Canucks went AAA, making them eligible fo the national championship, the Allan Cup.
There's still bitterness surrounding what would wind up as a loss to the team from Warroad, Minn., in the Saskatchewan-Manitobia final ... there was great controversy over scheduling and Cupar players' job commitments prevented them from competing. Ah, what might of been.
Last year, the Canucks finished runners-up in the provincial A tournament (having won it in the 90's), losing to another town from the eight-team Highway League, Raymore, in the final. Not bad considering there are 16 registered senior leagues in Saskatchewan involving a total of 131 teams. Indeed, across Canada there are 46 teams that are classed from the get-go as AA or AAA teams (only four in Saskatchewan, compared to 15 in Ontario) but of the 7,413 nationally registered players who fall under the classification of "senior other" fully 3,035 of them are in that province. That would include Shamrock, with a population of 30, and on up. The Llyodminster Border Kings won the Allan Cup this year, becoming the first Saskatchewan team to do so in 60 years.
Keeping a high level of competition alive isn't easy. Some years the Cupar team has been all-local, or has included players who grew up there and commute from school or jobs. Other eras have been built around imports... former minor-pro, junior or university players who go to the highest bidder.
"Small-town hockey in Saskatchewan," says Bonish, the chief organizer of the current reunion, "it sure gets the blood going. The rivalry and the excitement are there. If you didn't have it, there sure would be a void in your town."
Even during the first weekend of summer.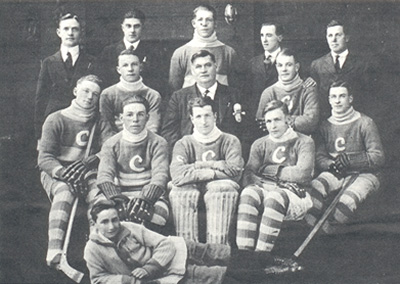 Young Cubs: In this photo of the Cupar Cubs, which dates from before 1923, the NHL's second greatest defenceman ever (and future
Don Cherry mentor to boot), Eddie Shore, is second from left in the
second row.